This month's featured volunteer is… Ron Bibbs! Ron serves on the HopeBUILDERS board and also works for The Whole Person, a local non-profit we often collaborate with. We are thankful for his contributions both to our organization and the Kansas City community. Continue reading to learn more about Ron.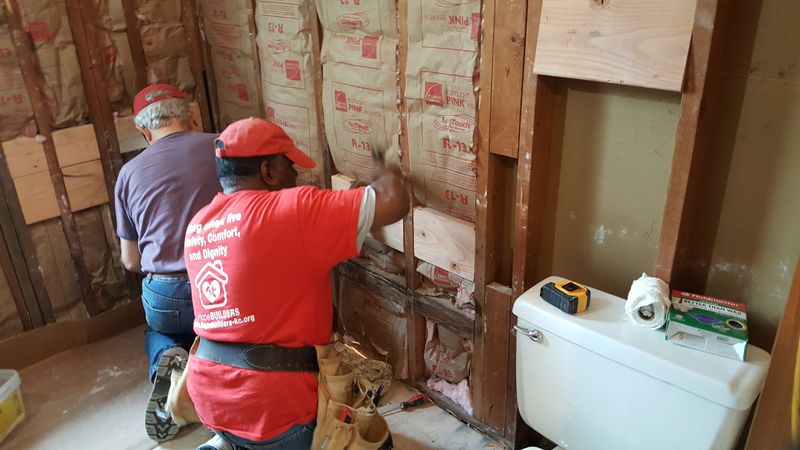 How did you first get involved with HopeBUILDERS and how long have you been volunteering?
My initial involvement with HopeBUILDERS, about 2.5 years ago, began through collaborative efforts to build wheelchair ramps for community members in need of help.
What are some of the ways you help within the organization?
Through my position at The Whole Person as Home Access Program Coordinator, I am able to assist HopeBUILDERS with funding projects.  I also help through personally volunteering and working on different projects.
You work for another nonprofit in Kansas City called The Whole Person. Tell us a little bit about that organization and the collaboration we have.
The Whole Person is a private, nonresidential, nonprofit 501(c)(3) corporation that has provided independent living services to residents of Kansas and Missouri since 1978. We receive base funding to operate as a CIL (center for independent living) from the U.S. Department of Education through the Rehabilitation Services Administration (RSA) under Title VII, Part C, of the Rehabilitation Act.  Additional funding is derived from grants from the State of Missouri, fees-for-service programs and United Way.
Through the joint collaborative efforts of HopeBUILDERS and The Whole Person, we are able to efficiently and effectively use funding dollars to help twice the number of community members age-in-place with wheelchair ramps, bathroom upgrades, minor home repairs. A win for everyone!
Why do you volunteer with HopeBUILDERS? 
I love volunteering with HopeBUILDERS for several reasons: to give back and make a difference in the community, to help others, to learn different skills, and to hang out with some really COOL people!
If you were to encourage someone else to volunteer with HopeBUILDERS, what would you say?
Come, join us.  And take up the challenge of making the world a better place through helping others.  If it doesn't challenge you, it doesn't change you.
———
Interested in volunteering with us? Take a look at our upcoming workdays and subscribe to our email distribution list below to receive the latest updates.