HopeBUILDERS' Inaugural BuildHOPE Event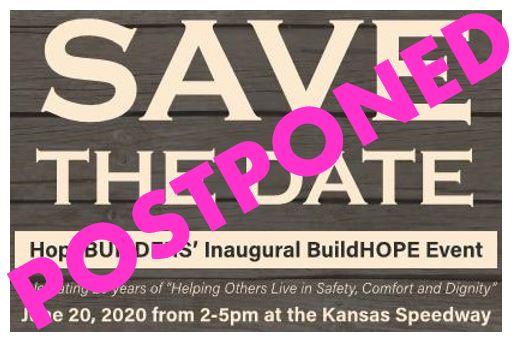 Celebrating 20 Years of Helping Others live in Safety, Comfort and Dignity
Originally planned for June 20, 2020 at the Infield Garages of the Kansas Speedway, BuildHOPE has been postponed. We do not have a rescheduled date at this point, but we will keep you updated as our plans develop. We look forward to celebrating this milestone with you and starting a new annual tradition!
For 20 years HopeBUILDERS, with the help of our countless volunteers and community partners, has been serving the Kansas City community in their ongoing mission to "Help Others Live in Safety, Comfort & Dignity."
In lieu of attending HopeBUILDERS originally-scheduled 20th Anniversary Celebration in June, we hope that you'll consider making a special donation in honor of the organization's 20 years of Building HOPE in the community.