ImpactDRIVERS: Monthly Giving for HopeBUILDERS
Join ImpactDRIVERS and help HopeBUILDERS year round! By making a gift monthly you can support HopeBUILDERS through automatically recurring payments. ImpactDRIVERS make long-term budgeting easier for us and donating is more convenient for you. ImpactDRIVERS who give $35 or more monthly will also get a HopeBUILDERS mug as a special thank you!
If you'd like to make a monthly gift via a different method please contact us!
Your monthly gift of:
 $35 provides 12 grab bar installations
$60 funds critical minor repair of doors or windows
$120 provides materials for a small ramp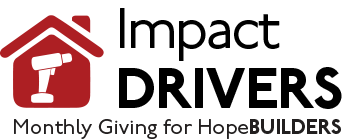 "Start giving and then come see the impact. You'll want to give more and more because you see the impact it has on the homeowners."

Terri Fevold, Monthly Donor