October 2019
KCK Ramp Build
I wanted to send HopeBuilders a big THANK YOU for the incredible work and commitment to helping the community.
My parents are residents in KCK. My dad's physical health has unfortunately forced him to be dependent on a walker or wheelchair. He's not as active as he used to be. He has a number of ailments such as COPD, Diabetes, Arthritis and CHF. He is on oxygen 24/7 and he struggles at times getting around.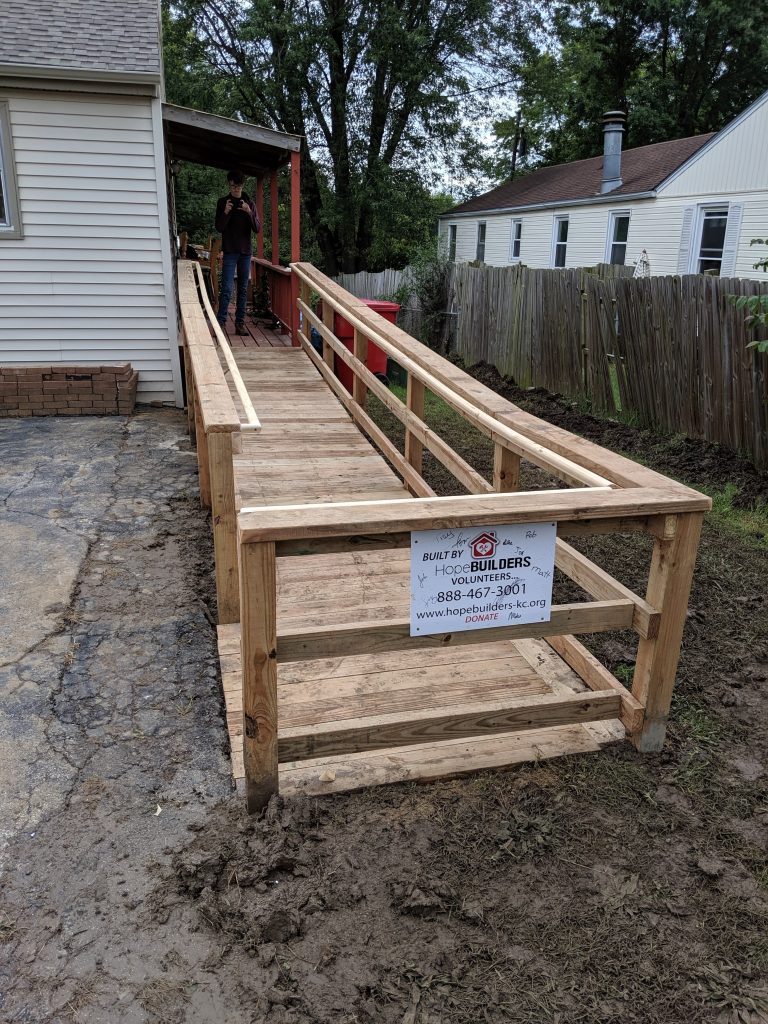 My mom retired early to stay home and help with his care about 5 years ago. She is 67 years young but getting him up and down the steps had become increasingly difficult over the last year. There are 5 of us brothers that help mom with dad but she definitely does the bulk of the work. We help her with all doctor appointments but even with us being there, it was a struggle to get him up and down the steps to get to the car.
The ramp and work your crew completed means a tremendous amount to my mom, my dad and to the five brothers. They are on a limited income and while we try to help mom and dad there is only so much we can do. This ramp is a lifesaver for him and my mom. The ramp is solid and looks great.
John [volunteer project leader] and the rest of the group were phenomenal troopers. The weather cooperated for a little bit and the rain went to the north and south for the most part. But they did get some rain and battled the elements. They stuck with the project and we just can't say enough good things about how they treated us, the constant communication with the project and the commitment to the project. The project included work by a young man working on his Eagle Scout project and his parents. They are incredible human beings. Very thoughtful and caring folks. They arranged the work and everything involved with HopeBuilders.
My dad wanted to have a little "ribbon cutting" ceremony with his new ramp. We put it to use right away as he had a doctors appointment already this week.
You all are greatly appreciated and we thank you for what you've done for our family.